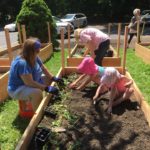 Our church has a raised bed garden with 23 4'x8′ bed with all the produce donated to Our Lady of Fatima's Food Pantry in Manorhaven.  In addition to this, UMCPW also purchases 45 dozen eggs and 45 half gallons of whole milk each week to OLF's food pantry.
Laundry Love is a UMCPW led effort with the support of the Clergy Association of Port Washington where once a month we gather and pay for up to three loads of laundry at a local laundromat.  During pandemic times, gift cards are given out monthly instead.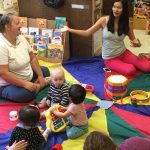 The UMCPW-sponsored Child's World Nursery School has operated within our facility for the past twenty years. Child's World offers an excellent pre-K education for members and community residents.
The Boy Scouts, have been with us for a long time. Our Troop was chartered  over 100 years ago when the UMCPW (then The First Methodist Church of Port Washington) occupied the current the Port Washington Library site.  Today, Troop 7, Troop 7g and Pack 77 Cub Scouts continue to make their home here at UMCPW.