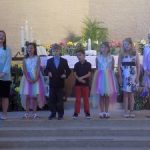 CHILDREN'S MINISTRIES – At UMCPW, Christian Education is highly valued. Apart from weekly Sunday School for children from 4 – 12.
A toddler area and baby play space are located in the rear of the sanctuary.
Confirmation takes place in the spring months – February to May with Confirmation Sunday on Pentecost.
UMCPW subscribes to the Safe Sanctuaries policies of the church in order to protect our children and volunteers/staff, as well as to provide the most positive environment to grow in God's love.
ADULT MINISTRIES – Pastor Romi leads regular book and Bible studies throughout the year.  Contact us if you are interested.